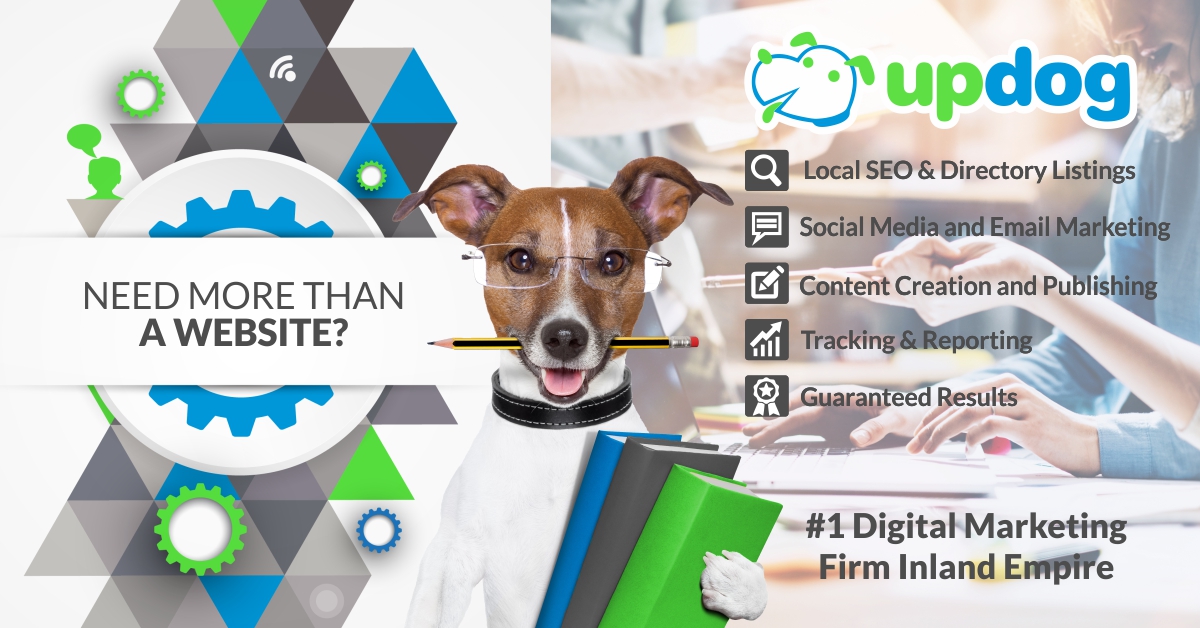 Digital Marketing Made Easy!
The great thing about doing business online is that unlike most brick-and-mortar stores that only operate at given time intervals on specific days with a set number of hours is that your website is open and available for business round the clock, day in and day out. However, when it comes to marketing and promotions, your website should be treated presented like a retail store.
Many businesses tend to concentrate on one or two aspects of digital marketing and never benefit from the full potential online marketing can provide. And UpDog will handle it all for you. We offer the entire range of online marketing services designed to skyrocket your business.
UpDog Digital Marketing Services:
Pay-per-click (PPC) advertising and management
Leverage the power of digital branding and marketing strategies
UpDog offers you more than just website design. Sure, our websites look good, but what good is having an eye-catching website with no one to see it and take action? We make sure that your website is seen by your target audiences and that it includes everything to make your prospective customers take action. From web development to SEO marketing strategies, UpDog offers a complete service package so you can get ahead of your competition.
Website design and web development
At UpDog, we build all types of websites – from simple blogs to ecommerce stores to complex corporate CMS. Our websites are coded and uniquely designed to represent your corporate identity. They are also extremely user-friendly, offer maximum usability, intuitive navigation, and are compatible with all popular browsers and mobile devices to reach your target audience.
Smart SEO marketing techniques
So your unique website is up and running, but where are the customers? You need to let them know that your website is out there through promoting it on all popular search engines, article directories, link directories, etc. From intelligent site structure optimization to keyword targeting to backlink building, UpDog will use all available SEO techniques to boost your website's visibility and popularity.
Smart social media marketing
Twittering, blogging, digging. There are so many new ways to market your brand online and more are emerging. UpDog can help you keep up with and make full use of the latest technology to spread the word about your brand and enable maximum exposure for your website. We will promote your business on all popular social media platforms such as Twitter, Facebook, LinkedIn, YouTube, and more.
Pay-per-click (PPC) advertising and marketing
Pay-per-click (PPC) is a great cost-effective strategy to market your brand online. UpDog will design ads for your banner campaigns and publish them on various websites. All you need to pay for is the number of clicks on your ads at a fixed rate. This way, you only spend money on prospects who might be interested in your products or services.
Opt-in email marketing
Many potential buyers will only make a purchase after they get to know you. Sending a free newsletter by email is the perfect way to build trust with visitors and remind them of your website and what you have to offer. UpDog will build an opt-in list of subscribers that are interested in your website and design a newsletter or e-zine to mail out regularly to increase your chances for sales.
Off-line promotions
Marketing materials are a great asset to drive traffic to your website. We will include your website address and social media on all your printed materials, envelopes, business cards, etc. We will also promote your website in product catalogs and fliers sent out to targeted lists, coupons distributed among potential buyers, classifieds posted in papers and magazines, printed advertisements, and more.
UpDog also provides a number of other services to get your brand more exposure, boost your search engine traffic and positioning while providing inbound traffic to your site. The services include building links to and from popular websites, writing and submission of press releases, building backlinks from blogs, forums, article submission websites, social networks, and many more.