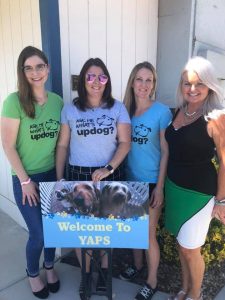 UpDog welcomes Y.A.P.S. as a Paws for Cause partner.
Redlands, California – Award-winning, non-profit, no-kill animal rescue Y.A.P.S., Yucaipa Valley Animal Placement Society, which incorporates many local volunteer programs and events, is partnering with UpDog Media, the Inland Empire's hospitality-focused print and digital marketing company.
"Working with YAPS is a dream come true! I have always wanted to be a part of a no-kill animal rescue because of my love for animals. I can think of no better way than to offer support through my business by providing YAPS with the necessary services they need to fundraise successfully. The entire UpDog team is excited to work closely with YAPS and nurture our relationship." -Kacy Carlsen, Co-Founder of UpDog Media
UpDog Media will assist YAPS in creating promotional materials for their events as well as signage for their facilities. They will serve to promote YAPS events and fundraising efforts. Updog Media builds brand identity and creates strategic, innovative, and engaging media to increase awareness and influence, and will be bringing their services to YAPS this year.
YAPS has found homes for thousands of animals since its founding by Betty Martinez in 1957. The first no-kill shelter in Yucaipa has also created new programs to help pets and their people, including their Animal Rescue Program, Senior Pet Companion Program, Youth Volunteer and Adult Volunteer Program, and Coauthor and Distributor of the City of Yucaipa's Spray and Neuter Voucher Program.
"The team at UpDog understands what animal rescue is about and believes in YAPS mission to help homeless pets in the Inland Empire. Working together in the community is the only way to achieve success." -Annette Florez, YAPS Executive Director
The shelter hosts an annual fundraising party. The 9th Annual Bets for Pets will be held Saturday, October 5th, at Fascination Ranch in Calimesa. Dinner, drinks, and playing chips are available with ticket purchases to support the event and be involved in the community. All proceeds go to benefit the homeless pets at YAPS.
Both teams are excited to work together locally to support YAPS' message of animal welfare.
For more information about the Bets for Pets dinner, please contact YAPS at (909) 790-1440.
Media Contact
UpDog Media
Kacy Carlsen
2351 W. Lugonia Avenue
Suite D
Redlands, CA  92374
909.498.4416
kacy@updog.com